Over the last few months I have been working for Hogarth Productions supporting their MASSIVE PUPPET project through sound...
Ed Harcourt approached me following our collaboration on the Spirit of Saint Mary as part of the Whitley Arts Festival and asked me if I could make a soundscape for these massive puppets from Kensington Palace that were part of an installation there.
I met the puppets first in Kensington Park (strange coincidence) in Reading. Took some photographs and recorded sound on my mobile phone. They gave me the names for each of the puppets and I established that they were a family once trapped in a palace now given free reign, I started considering their characteristics.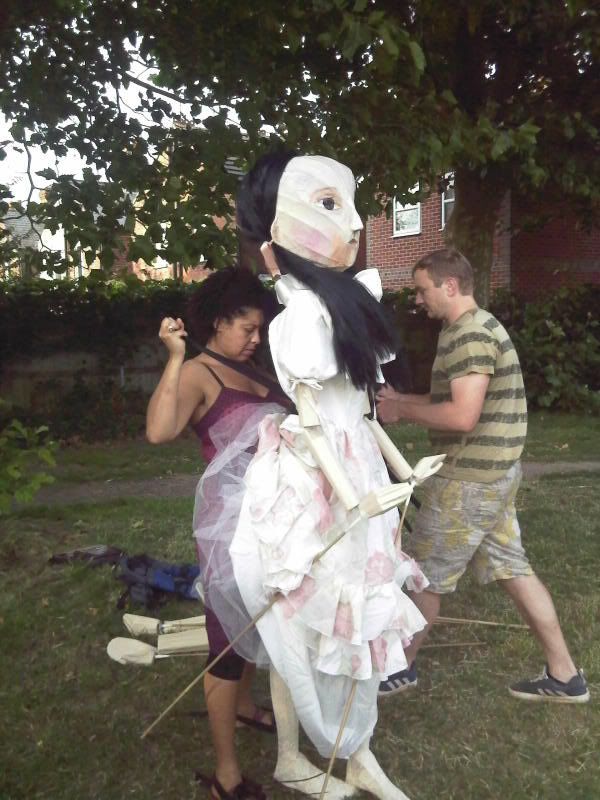 First is Fauna, the smallest and youngest - dainty... a ballerina. You can see her here with the chief puppeteer.
Flora is senior to Fauna, once a successful ballerina but faded and bitter. And here she is with two former students of mine that I got this gig for... Bradley and Carl.
Aurelia - the big sister, bossy and a gossip. Carl was inside her at this point.
Lillio - the mother, creaky (the puppet is big and heavy so will have to be carried in a rickshaw)...
The first thing I did was create a base sound which was a combination of ticking, a distorted sound of a fireplace and the strange creaking I recorded (from the inside of Lillio - her creaking bamboo joints) on my mobile. And here it is...
Base extract by Music for Zombies
I then looked for music box music for Fauna (which would be clean and beautiful)
...and for Flora (which would be distorted and scratched)
This is the sound for the older sister puppet, because I imagined her as a nag bag from the dark distant past I took a scathing review of Mr Bensley's performance as Glanville from "The Devil's Copybook" (1789) as quoted in No Turn Unstoned , read this in the style of an over the top Miss Haversham. Then upped the speed pitch, added echo, played it backwards to get this.
Finally Lillio, creaky and old she speaks through her joints...
The point of making these is that when they played on a longer soundscape it would give the puppeteers an impetus and inspiration to move. I added these to the base soundscape and before each puppet sound also added a cue sound,
Fauna=Windchimes (again a sweet sound)
Flora=A sad choral sound
Aurelia=A cockerel
Lillio=A Foghorn
The short extract below gives an idea of how it would all work together.
Mix extract by Music for Zombies
This short video gives an idea of how the puppets worked both at the Caversham Festival and as part of the Outside Inside Festival - I used this and the sounds at school to help explain devising in drama.
Did any of you see the puppets in Reading, give us a shout and tell us what you thought.
Ed is now thinking of moving on with this into a more stationary show for the Whitley Arts Festival - so watch this space.
This has been an invigorating and exciting project and I hope to work with Lillio, Aurelia, Flora and Fauna again.